Welcome to our community spotlight series where we bring the Hobby Area District community even closer together by getting to know some of our outstanding community leaders.
A huge attraction, the first of its kind for Houston, is opening near the Hobby Area District later this year—the Houston Botanic Garden. It will offer 132 acres of natural space in the city. Visitors will have plenty of chances to spread out, enjoy the garden in a natural state, and walk on trails throughout the property.
Earlier this month we sat down with Claudia Gee Vassar, President and General Counsel of the Houston Botanic Garden.
What is the Houston Botanic Garden?
Sometimes it helps to think of a botanic garden as a museum or zoo for plants. The Houston Botanic Garden will bring to Houston and the Hobby area a living collection of plants. The Garden will be a place where we focus on encouraging people to discover and learn about plants. We will showcase plants from around the world to inspire visitors and help them connect with nature.
There is a network of botanic gardens across the country and world that work together to conserve plants and study them. We're really excited to be able to join that network and provide incredible education and research opportunities in our community.
Where are you located?
Our entrance will be off of Park Place Boulevard just east of I-45, across from Park Place Elementary, on what was the former Glenbrook Golf Course. Visitors will enter the site by crossing the Sims Bayou meander that runs around the north of the Garden's property. As they explore further, they will discover the Sims Bayou channel runs through the middle of our site, dividing it into The Island and the South Gardens.
How did Houston Botanic Garden start?
People began expressing interest in seeing Houston have a botanic garden in its city limits, like most major cities across the world, more than 30 years ago. This group felt that a really important thing was missing from the cultural amenities in Houston. We have lots of great museums, parks, and green spaces, but we don't have a botanic garden to conserve and preserve a plant collection for the purposes of education and research.
As a first step in trying to bring a botanic garden to Houston, this group created a non-profit organization and then entered into a partnership with the City of Houston for the lease of the land, which was an important piece in turning the dream into reality. For a while, the city had been looking for a centrally located, large piece of property that could house a plant collection that would be as significant as our city. They searched for a property for a long time and found this wonderful setting for the Houston Botanic Garden. We're really grateful to the City of Houston for their belief that this is a project worthy of support.
With a place identified, the group then set out to find whether there was enough community support to make the botanic garden happen. They discovered that there were a number of people, organizations, and foundations willing to invest to bring an institution like this to Houston. In fact, through the generosity of the local philanthropic community, we exceeded the $35 million goal for our capital campaign and raised more than $38 million to build the Houston Botanic Garden.
What is the timeline for opening?
We have created a 30-year master plan for what this site will look like once it's fully developed. We started Phase I construction in spring 2019. We have also begun recruiting and hiring our team of staff and planning for programming. When we get to opening, we'll provide all of the amenities of a museum in an outdoor setting where the plants are the focus.
Coral Stone Alcove Wall, which stretches almost the full length of a football field down one entire side of the Global Collection Garden.
A sampling of the variety of trees and shrubs that have already been placed and planted among the boulders and rocks that line tertiary paths through themed sections of the Garden.
Despite the impact of the coronavirus on a couple of suppliers and manufacturers, our construction is mostly on schedule. We are still optimistic that we will be able to provide visitors with an incredible experience in our vast urban oasis this fall.
What can we expect when you open?
The Houston Botanic Garden experience begins as you approach the entrance off of Park Place Boulevard. There, you'll be greeted by an entry garden as you cross the Sims Bayou meander onto the Island and proceed down Botanic Boulevard, a tree-lined drive that helps you transition from the hustle and bustle of the city to this beautiful oasis.
Before you even get your ticket you will notice some incredible oak trees that we have preserved to create a Picnic Grove people can enjoy outside the gate.
As you enter the gate with your ticket, you'll see – and smell the scent of – a Pine Grove in front of you. On your left will be an aquatic garden with a fountain. You'll hear the sound of the water as the rest of the Garden starts to envelop you.
The three-acre Global Collection Garden just beyond is our show-stopper. It is designed to showcase plants from around the world that reflect the diversity of our city. There will be experiences from the Americas, the Mediterranean, and Asia, for instance. Other themed areas will reflect the unique nature of the plants within. As an example, the Corner of Curiosity will showcase rare and unusual plants that have shapes and growth patterns you probably haven't seen in your everyday experiences.
Back around the corner to the right of the gate, we will have a Culinary Garden that highlights the incredible variety of wonderful edible plants that grow well in Houston. We'll also present agricultural techniques designed to inspire visitors to try growing some of the plants in their own home gardens.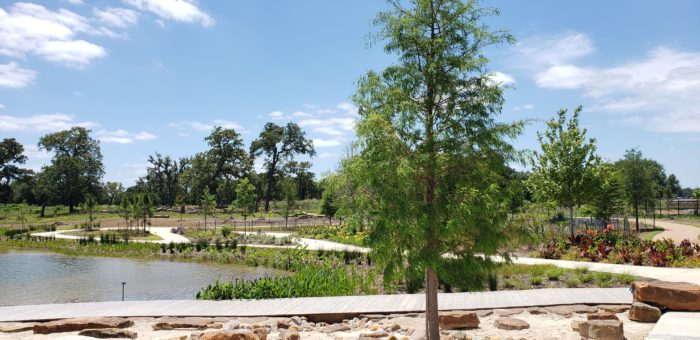 A boardwalk with wetlands plants surrounding the lagoon and an adjacent sandy beach area dotted with boulders are just two of the fun spaces to explore in the Susan Garver Family Discovery Garden.
The plants in the Susan Garver Family Discovery Garden's perennial beds reveal the colors of the rainbow as they bloom.
Across the Sims Bayou channel in our South Gardens, visitors will find the Susan Garver Family Discovery Garden. Here, younger visitors and the young-at-heart can explore through hands-on water play. They'll learn about pumps and other simple machines as they move water through different channels. They can watch all of that water flow into a lagoon, which is the central feature of this garden, with giant water lilies growing in it. They can also use the water to give some of the plants in the area a drink. This space also has a rainbow garden, carnivorous bog, boardwalk, and wetlands plants. It's a great place to inspire curiosity in visitors of all ages.
Back on the Island, we also have the Woodland Glade. It will be a beautiful space to visit anytime, but it is specifically designed to serve as the backdrop for special occasions, like weddings. The Island is also home to a couple of natural ecosystems. These include a stormwater wetlands area, which will allow us to showcase the incredible benefits of turning a retention pond into beautiful wetlands. There is also a coastal prairie, patterned after the topography of the Katy Prairie, to exhibit the importance of prairies to our region's ecosystem.
On both the Island and South Gardens we have walking trails beyond the cultivated gardens so visitors can immerse themselves in nature. And there will be lots of opportunities for people to see and connect to the bayou since bayous are so incredibly important in our city. We will also offer indoor and outdoor spaces where visitors can hold meetings, birthday parties, or other celebrations with the garden as a backdrop.
We will also have a Community Garden where people can volunteer and learn from our team. We'll have opportunities for those who want to rent a plot to grow their own plants and reap all of the benefits of working in a garden. It will be a place for the community to build relationships and come together through gardening and connection with nature.
What are you most excited about in 2020?
Opening the gates and welcoming people to the Garden this fall! This is a project that has been in the works for so long, and I think it's a joy and an honor to be a part of creating something that will be so special for our community. Particularly given what is happening as a result of the COVID-19 pandemic, we are looking forward to providing this wonderful opportunity for people to see and enjoy nature in a new way. I think so many people are discovering – or at least rediscovering – how important it is to be outside, so seeing all of the hard work come together to create a beautiful outdoor space like this is really exciting.
What does the Houston Botanic Garden add to the Hobby Area District?
We've brought people from all over the city to come to be a part of this project, and I'm always excited for them to see what's going on in the Hobby area. Countless people have been so pleasantly surprised when they come here. They didn't realize how many other great things are happening just down the street from the Houston Botanic Garden. It's really important that southeast Houston has a well-maintained and cared for outdoor space like ours for the community to enjoy. It is also significant to have an opportunity to use the Garden as a means of highlighting the many wonderful things happening in the Hobby area.
What is your current programming?
Earlier this spring we started piloting some education programs to help spread the word about the Houston Botanic Garden and to gauge what might be most interesting to the community. Unfortunately, after COVID-19 hit, we had to scale that back. We've been doing a few things virtually and have really turned our attention to planning safe and accessible programming we can offer once we open our gates this fall.
For instance, we will have a grand opening season, rather than a single event, with a series of weekend celebrations highlighting select regions of the world whose climates are similar to ours. We will share the stories of plants that are important to the people and cultures of the Americas one weekend, the Mediterannean another, and finally, Asia, to conclude the season.
We will also have programming – lots of opportunities for both children and adults – throughout the school year. In addition to teaching basic gardening skills and offering advanced horticulture classes, we'll present different ways we can see nature through the lens of the arts. We'll also have some wellness programs focused on the benefits our minds and bodies reap when we connect with plants. Whether you're a novice or an expert, we want you to come to enjoy and learn more about the incredible world of plants.
How does someone get involved?
There are a number of ways that you can get involved. Throughout its history leading up to opening, the Houston Botanic Garden has relied heavily on volunteers. We look forward to being able to bring volunteers in again — but only after health officials deem it safe to do so, based on the science — to help us take care of our gardens and to prepare them for visitors. We have volunteers who like to get dirty and help us outside in the beds, but we also have others who help with administrative work and similar tasks. Moving forward, there will be opportunities to participate in the Community Garden as well, once it opens. You can find information about all these opportunities on our website, www.hbg.org.
Special thanks to Justin Lacey, Director of Communication & Community Engagement for the Houston Botanic Garden, for coordinating. Follow the Houston Botanic Garden's progress on Facebook and Instagram.