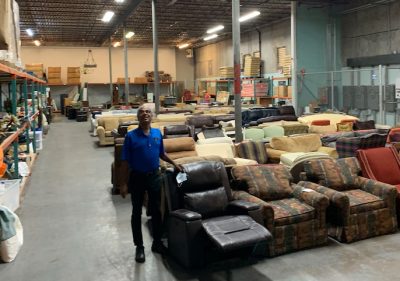 Oli Mohammed has a simple goal. So simple, in fact, it can be summed up in a hashtag: #NoKidsOnTheFloor.
Mohammed, who founded the Houston Furniture Bank in 1992, has worked for almost 30 years to help disadvantaged residents of Harris County furnish their homes. But his latest initiative is specifically designed to help the thousands of area children who sleep on the floor every night.
"There are an estimated 300,000 children sleeping on the floor in Houston right now. No bed," Mohammed said during a recent tour of the facility. "No child should be sleeping on the floor."
Mohammed is proud that the Hobby Area District is home base to an enterprise that sends desks, tables, chairs, lamps and beds going to help indigent people across Houston. Just behind the Hong Kong Market on the Gulf Freeway, the massive warehouse does double-duty by helping people get furniture and helping the environment by recycling old mattresses.
For most people, the Houston Furniture bank is a good place to get a great deal on dining room sets, bedroom sets, living room sets and even framed art. Area furniture stores and national manufacturers send overstock and scratched and dented pieces to the HFB to sell at deep discounts in the furniture bank's spacious showrooms.
Anyone can walk in and browse the showrooms for a great deal or buy a brand-new mattress, one of the hundreds that are made on-site by skilled crafters with commercial sewing machines and special training.
Other people, who are screened by community agencies that help the indigent, are taken to the cavernous warehouse behind the showrooms to pick out items to furnish their homes for free. For those families, state and local agencies pick up the tab, which is generally about $250 for all the furniture that a typical family needs.
"Every month, somewhere between 1,200 to 1,500 pieces are distributed to families," Mohammed said. "That's between 100 and 150 families a month, but that number needs to go up. We need to serve more families."
The lifeblood of the facility is the workers, who process administrative tasks at desks scattered through the showrooms or build and sew brand-new mattresses in the back warehouse. Other workers, including some who were formerly incarcerated, help with the hard labor of tearing apart mattresses and crushing the springs into wire bricks to sell for scrap metal.
The furniture bank, which recently opened a second location near the Woodlands, employs a total of about 50 people, including 20 "second-chance" employees.
"This is an opportunity to help them and for them to give something back to society," Mohammed said. "It's very difficult to keep good people because the pay is low. We need to find more funding sources to adjust salaries, to raise wages."
He said supporters can help the furniture bank in these ways:
Donate

f

urniture

Volunteer
Bring your old mattress to recycle (if possible, please pay a $10 donation to offset the labor. Mattress pickup is available for a $25 donation.)
Shop at the Furniture Outlet
Contribute money to the

"

No Kids On the Floor" campaign
Mohammed said the Houston Furniture Bank also operates as an environmentally conscious organization by using solar power and recycling mattresses.
"We are a green organization. About 69 percent of our electricity is from solar sources," Mohammed said. "In a landfill, each mattress takes up 23 cubic feet that can never be properly compacted, and those bedsprings just fill up with methane."
That matters because the International Sleep Products Association estimates that Houstonians throw away 750,000 to 1 million mattresses every year.
"We recycled 26,000 mattresses last year and gave mattresses to 1,000 children," Mohammed said. "The Houston Furniture Bank can't do it alone, but if the community could come together, we could declare in the next five years that no child has to sleep on the floor."
Go to https://houstonfurniturebank.org/ for more info.
Houston Furniture Bank Main Campus
8220 Mosley Rd.
Houston, TX 77075
Hours:
Monday – Friday 8 a.m. to 3:30 p.m.
Saturday 9 a.m. to 5 p.m. 
Houston Furniture Bank North
295 Sawdust Rd.
Houston, TX 77380

Hours:
Monday – Saturday 9am to 6pm
— By Brian Rogers