Mayor Turner and city officials discuss the Solid Waste Management Department's COVID-19 cleanup initiative focusing on underpasses throughout the City of Houston.


The City of Houston is addressing public health risks associated with homeless encampments during the COVID-19 pandemic, Mayor Sylvester Turner announced today during a tour of a cleanup at Bellfort and the Gulf Freeway.
Councilman Robert Gallegos, Solid Waste Director Harry Hayes, and Marc Eichenbaum, director of the mayor's homeless initiatives, joined the mayor to observe workers collect and remove trash from the underpass.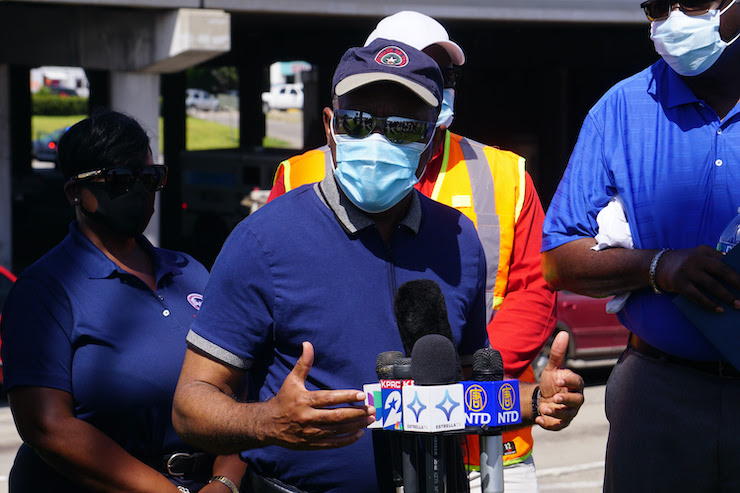 Since April, the Solid Waste Management Division has worked with city council members and community groups to identify locations and conduct weekly debris removal of more than 70 sites around freeway underpasses and other infrastructure.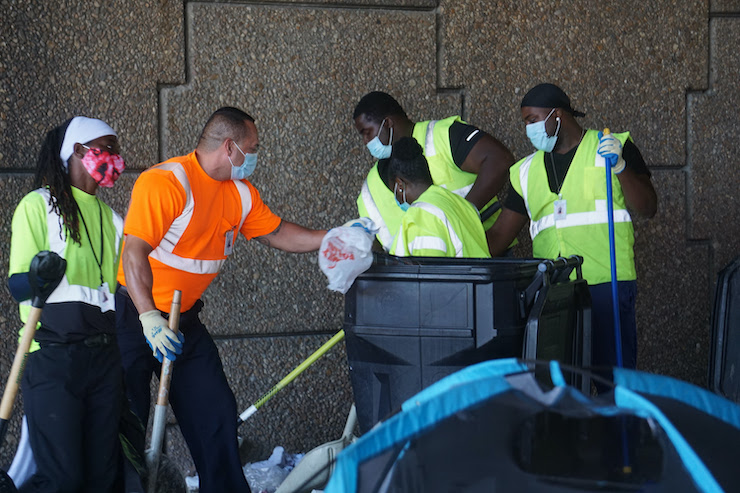 On June 17, the city council approved the purchase of special COVID cleaning equipment, including six pickup trucks/trailer combinations and two rear loaders for heavy material.
The COVID-19 cleaning consists of removing trash, shopping carts, abandoned furniture, and power washing areas, to protect the community's health and safety.
The mayor stressed that all COVID-19 cleanups follow the Centers for Disease Control guidelines, and SWMD employees respect the personal property of people living in the homeless encampments.
"Our crews have been out here talking to the people living in the encampments. They know we are not just trying to move them just for the sake of moving them," Mayor Sylvester Turner said. "We want to treat them with the dignity and respect they rightfully deserve. Just because you are homeless doesn't mean you need to be living in unsanitary conditions."


"Managing public health while mitigating community spread of COVID-19 is a critical pandemic response mission of the Solid Waste Management Department.  Our workers understand the importance of their role and duties to maintain a safe and healthy city for all residents, regardless of their life status," said Solid Waster Director Harry Hayes."Just as in other disaster response and recovery missions, Solid Waste Management employees are on the front line providing critical public services."
"Improving the sanitation at these locations is just part of our multi-prong response to prevent the communal spread of COVID-19 within and outside of our at-risk, homeless population, including the distribution of masks and sanitation supplies, placement of handwashing stations, a specialized homeless testing program, and an overnight facility for those who need to quarantine or isolate and lack the means to do so," said Marc Eichenbaum, Special Assistant to the Mayor for Homeless Initiatives.
The City plans to continue the COVID-19 cleanups through the end of the year. However, Mayor Turner stressed that his primary goal is to provide permanent housing for people living on Houston streets.
"Over a month ago, we announced a $65 million partnership with the county to house about 5,000 people over the next two years. We plan to transition some of the homeless people on our streets now and put them into permanent supportive housing," said Mayor Turner.
Contact:
Mary Benton
Director of Communications
Office: 832.393.0830
Mobile: 713.208.6229
[email protected]
Ada Ortega
Press Secretary
Office: 832-393-0800
Mobile: 832-547-3240
[email protected]
Tejal Patel
Public Information Officer/Deputy Press Secretary
Office: 832.393.0808
Mobile: 832.459.9706
Tejal.Patel@houstontx.gov